Lebanon Utilities - Fire Hydrants Analysis

Watchdog Indiana Home Page

Watchdog Lebanon Home Page

Lebanon Utilities - Water
NOTE: The information on this web page was obtained from, or confirmed with, Lebanon Fire Chief Chuck Batts on June 6, 2014.
The color of the cap on top of a Lebanon fire hydrant indicates the size of the water main to which the fire hydrant is connected. The available flow of water to a fire hydrant is limited by the water main size. The spreadsheet below summarizes the Lebanon fire hydrants color-coding system.
Lebanon Fire Hydrants Color-Coding System

Source: Lebanon Fire Chief Chuck Batts on June 6, 2014.

Hydrant Cap Color

Water Main Size

Available Flow*

Red

4-Inch

300 to 400 Gallons Per Minute

Orange

6-Inch

900 to 999 Gallons Per Minute

White

8-Inch

1,000 to 1,199 Gallons Per Minute

Green

10-Inch

1,200 to 1,499 Gallons Per Minute

Blue

12-Inch

1,500 Gallons Per Minute or More

* On an "average day" at 20 pounds per square inch residual.
Bob Waples, the Lebanon Utilities Water/Wastewater Operational Manager, reported at the June 4, 2014, meeting of the Lebanon Utility Service Board that a fire hydrant on a 4-inch water main provides "minimal" fire protection. However, most Lebanon feeder and distributor water mains are laid out in a grid with interconnections at roadway intersections and other regular intervals. Water will generally still be distributed through the system if a single section fails, and water supplied to fire hydrants will feed from multiple directions. Lebanon does have a "few bottlenecks" where fire hydrants are supplied by "dead end" mains.
No distributor water main for fire hydrants should be smaller than 6 inches because, generally speaking, water supply systems in residential areas should be designed to deliver no less than about 1,000 gallons per minute at each individual fire hydrant. The fire hydrants on Lebanon's 4-inch water mains only deliver up to 400 gallons per minute.
While fire hydrants on 4-inch water mains only provide minimal fire protection, the Lebanon Fire Department has been trained to watch the gauges on a fire truck to avoid "pulling a vacuum" when using a fire hose that is connected to a fire hydrant fed by a 4-inch water main. A fire hose can be connected to another nearby fire hydrant if necessary. Also, a fire truck dispatched to a residential fire has enough water on the truck to handle many room and contents fires before connecting to a fire hydrant.
Even though a fire hydrant on a 4-inch water main is minimally "sufficient to handle the average residential fire," Lebanon has capital projects underway or planned to replace 4-inch water mains with larger water mains on Meridian Street, East Street, and Lafayette Avenue. As shown by the bold black lines on the map below, Lebanon will still have many 4-inch water mains that need to be replaced.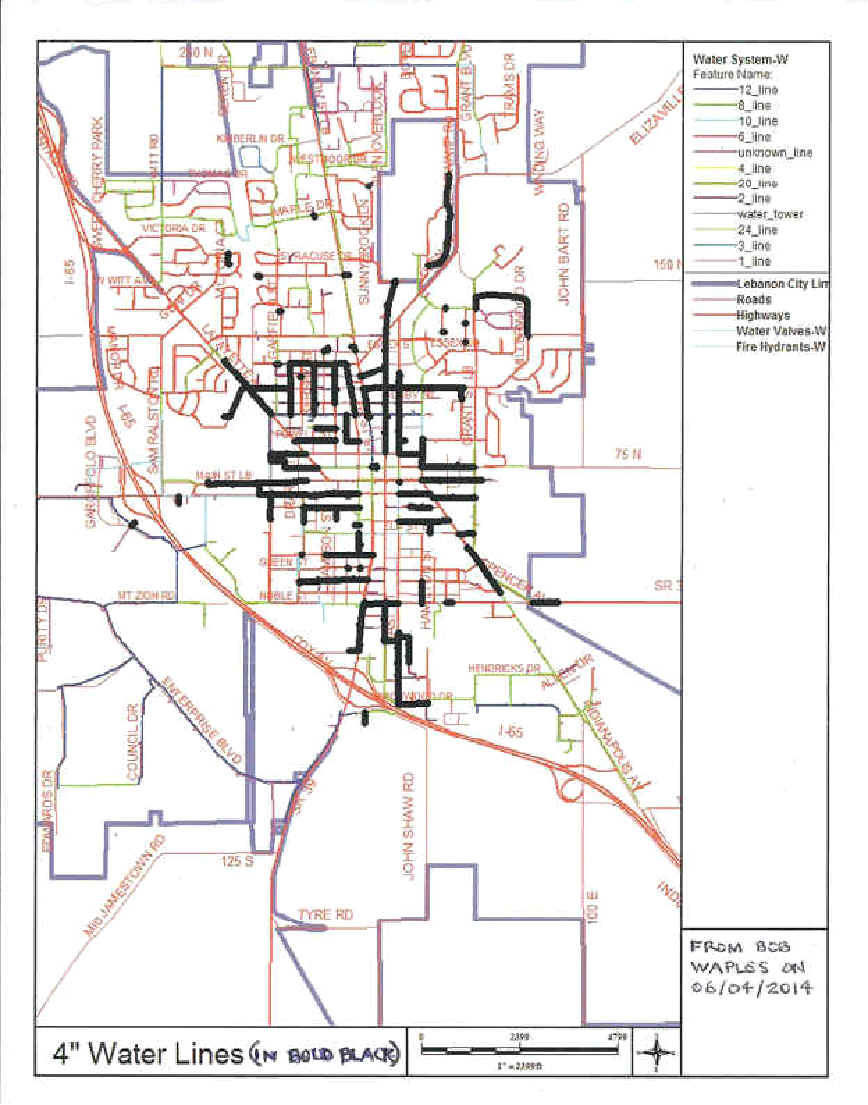 Watchdog Indiana Home Page

Watchdog Lebanon Home Page

Lebanon Utilities - Water
This page was last updated on 07/07/14 .